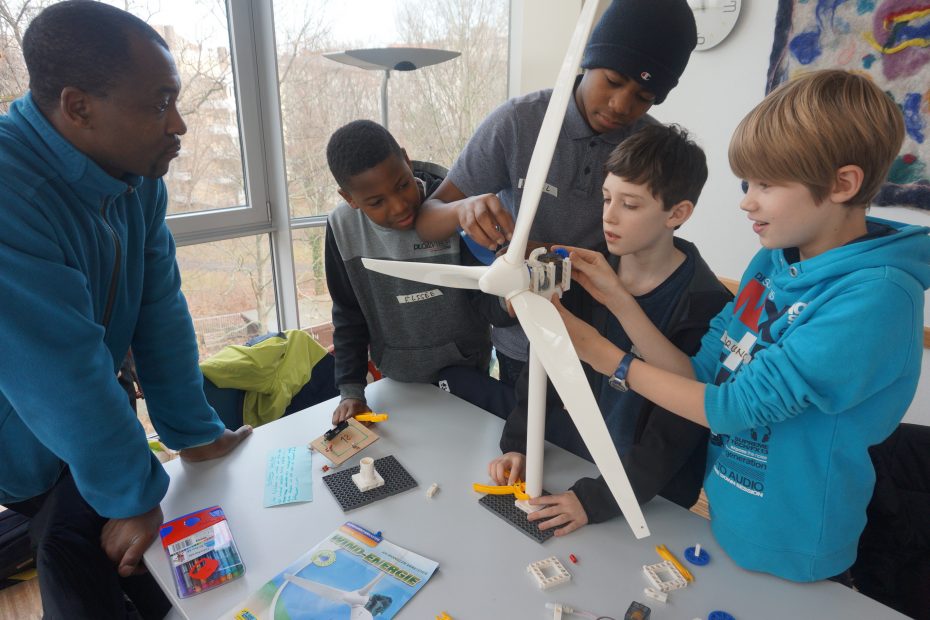 Project details
Target audience
School students
Fields
Sciences, German, Physics, Geography, History, Learning in the Global Context, Economics, Political Sciences (more detailed information, see below)
Project description
The school students get to know options for action for responsible management of energy and resources and are motivated to embrace environmental protection.
In the scope of exciting experiments, we address topics such as how to supply a house with electrical energy in an environmentally friendly manner, or what differences there are between city and country areas.
Relationships between energy poverty and resource wealth of the southern partners (Asia and Africa, generally in comparison) are addressed.
We determine our energy demand and find out how our electricity is generated.
We explore what impact our energy consumption has on the lives of people in Cameroon or South Africa and investigate how it is possible that although these countries are rich in resources, many people there have no access to energy.
We seek to stimulate the participants to think about their behavior as consumers and discuss possibilities for taking action on various levels (politics, NGOs, society).
The students learn about causes of energy poverty in Cameroon and which renewable forms of energy are used there. They investigate sources provided to them to find information about energy consumption in familiar and strange countries and cultures. They learn about the impact on children and families and about the potentials of sustainable energy production, and learn in the scope of experiments how to apply them in practice.
The students can reflect on their own values and those of others in the scope of an analysis of energy production and the resulting developmental problems. They can comprehend these by means of a change of perspective and can enhance their awareness of these issues. In this way, they are enabled to develop sustainable problem-solving approaches on various levels of society and learn to take their role as consumers seriously. They can see themselves as a part of the one Earth (the bioplanet), with whose future we are inescapably linked.
Event costs: Own contribution of 25 € to 35 €.
Detailed information for download [PDF]
If you are interested, we can also offer this course at our facility at Tempelhofer Feld. Please contact us for this.
Subject areas (in detail)
Natural Sciences, 5th/6th grade:

1.1 The sun as source of energy
1.2 The world of large things
1.3 The world of small things
1.4 Plants
1.5 Animals
1.6 Biospheres

German, 1st to 6th grade:

2.1 The individual and his/her living environment
2.2 Society and public life
2.3 Culture and historic background
2.4 Nature and the environment

Physics, 7th to 10th grade:

3.1 Energy transformation in nature and technology
3.2 Thermal behavior of bodies
3.3 Electric current and electric charge
3.4 Thermal energy and heat

Geography, 7th to 10th grade:

4.1 Migration and population
4.2 Poverty and wealth

History, 7th to 10th grade:

5.1 Poverty and wealth
5.2 European expansion and colonialism
5.3 Democracy and dictatorship
5.4 Conflicts and conflict solutions
5.5 Economy and trade

Learning in the global context, 7th to 10th grade:

6.1 Diversity of values
6.2 Cultures and living conditions

Economics:

7.1 Production, trade and consumption
7.2 Protection and utilization of natural resources
7.3 Globalization of economy and labor
6.4 Poverty and social security

Political Sciences:

8.1 Democracy yesterday, today and tomorrow in theory and in practice
8.2 Structure of society and social structure
8.3 Peace and conflict